by
Alan Stratton
on Friday, December 2nd, 2016 |
Comments Off

on Adaptable Abstract Sculpture Desk Toy ("Thingey" or MetroGnomes)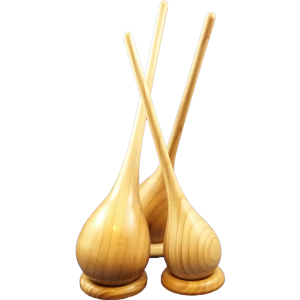 May also be viewed on YouTube, Vimeo, and Facebook. – Please stay right here!
Where do project ideas come from? Anywhere! This is inspired by a large object outside a building between the San Diego airport and the rental car center. I hope someone from San Diego can tell me what it actually is.
The largest one is about eleven inches tall and three inches diameter. It is cedar finished with beeswax and mineral oil. This is a set of three.
My vision is of a desk toy where I can play with their position and change it at will.
Apparently what I saw were "MetroGnomes". Thank you John Fisher for identifying them. Thank you San Diego for inspiration.
Good turning.