by
Alan Stratton
on Friday, January 6th, 2017 |
Comments Off

on Fruit Salad – Dry Spaulted Apple From Green Natural Edge Cherry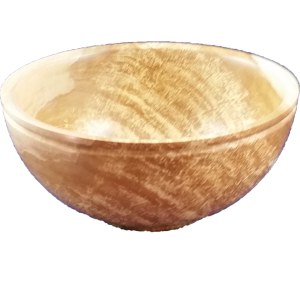 May also be viewed on YouTube, Vimeo, or FaceBook. Best right here.
I started turning a natural edge bowl from Cherry. Alas, it did not survive. But I did survive despite a hard knock to my face shield.
So I switched to a dry block of spaulted apple that I have from a woodturning club meeting.
This apple bowl is finished with shellac buffed to a nice sheen. It is about 6″ in diameter and almost 3″ high.
To sign the bowl, I used:
My DIY pyrography power supply as described in "Home Made Vaporizer for "Pyrography"/Woodburning"
A DIY Pyrography pen as described in "DIY Pyrography Pen And Tip For My Woodburning"
A commercial small ball tip for the pen
Head mounted magnifying setup from Treeline.
This is overkill for simply signing but a great setup for woodburning or pyrography.
Good turning.