by
Alan Stratton
on Friday, March 31st, 2017 |
Comments Off

on More Natural Edge From Spring Pruning – Rustic Napkin Rings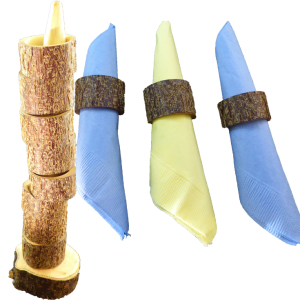 May also be viewed via YouTube, Vimeo, and Facebook – But best right here!
In this video I am again using a sucker I had pruned from a hazelnut tree. This time, I'm turning a set of natural edge rustic napkin rings with a stand for their display and storage. This is a set of eight rings about 1 1/2 inch diamter and about 1 inch long finished with walnut oil.
The challenge in this project is cleaning up the centers. Since the entire outside is bark, only the inside had to be sanded.
Still, it is a simple but repetitive project. One for a woodturner or looking for the totally unique dining accessory.
Good turning.