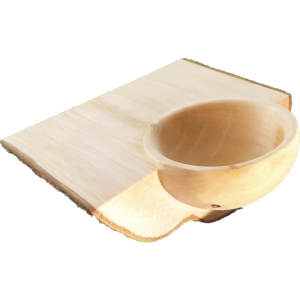 May also be viewed at these links on YouTube, Vimeo, and Facebook. Best right here!
After recently observing a demonstration in a local woodturning club, I had to turn an emerging bowl. This is the best way to hammer home what I observed. Then I can explore alternatives and combine features.
In this video, I went much further using green wood from a hazelnut branch removed in spring pruning. Squared lumber would have been an easier place to start but I am a glutton for punishment and went for a natural edge leaving the bark intact.
The limb was about 3 inches diameter. I initially cut it about 8 inches long. My process was:
Prepare a waste block to fit my chuck. On the opposite side, I bored a hole for a mortise.
Mount the limb and cut a tenon on one end.
Glue together the mortise and tenon with Titebond II. Let dry overnight.
Turn a perfect hemisphere on the end of the branch. Any imperfections will show up later.
Saw the branch in half – a rip cut.
Mount the half to a faceplate using hot melt glue and additional scrap blocks for support and security. The center of the bowl must be exact to the axis of rotation of the lathe.
Relieve the new top surface leaving a small lip around the bowl. This is with the tail stock in place to ensure a good hold.
Remove the tail stock and hollow the bowl.
Clean up any remaining marks and edges by sanding.
Finish with walnut oil.
Since the wood in green, I'll keep it wrapped in plastic wrap and a paper towel to retard moisture loss.
The challenge in this project is mounting irregular wood, turning a perfect hemisphere, and turning off center wood.
Maybe I should have turned my first emerging bowl from dry square stock?? Yet, it turned out very nice.
Good turning.