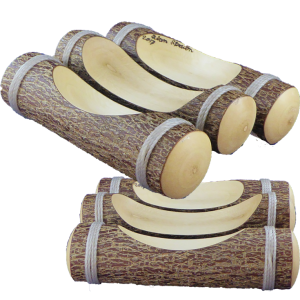 May also be viewed on YouTube, Vimeo, or FaceBook. Best right here!
This project has been a long time in development. While looking at my stash of hazelnut suckers pruned last year, I wondered if I could line up three or four pieces and then turn a bowl.
The problem was how to join the limbs together. They could not remain separate and function together for a bowl.
My first thought was to use dowels to join them. That seemed tacky to use common dowels for a fine woodturning even if the exterior is rustic.
Next thought was to route a groove for a spline. I would mill the spline from the same wood as the limbs. This seemed to be a reasonable plan. Then, I started the project by turning each limb individually to round and smooth the ends.
With the ends nicely done, it was time to use the router. Then as I laid the limbs side by side, I remembered the work I did as a Boy Scout for the Pioneering merit badge. The difference was the scale.
So I racked my brain to remember the process. I used nylon string to lash the limbs side by side. It looked like a small raft.
On a large threaded wood faceplate, I centered the raft with the tail stock. Using scrap, I screwed blocks around the raft and used hot melt glue for final stabilization. Masking tape protected the wood. Duct tape provides a little measure of stability but not much.
Then I hollowed out my rustic raft bowl. But I'm not sure exactly what to call this type of woodturning.
It is about 5 by 4 inches.
Good turning.