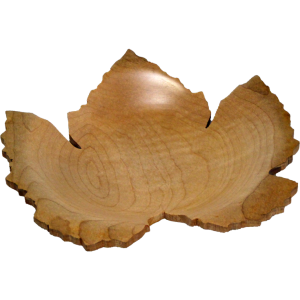 May also be viewed via YouTube, Vimeo, and Facebook – But best right here!
I got this idea from the Utah Woodturning Symposium, specifically Raleigh Lockhart's presentation. It entails cutting a leaf shape on a scrollsaw then turning it on the lathe.
My leaf plate is a grape leaf about 6 inches in diameter and about 1 inch tall. It is turned from maple with a lacquer finish.
My process:
Find a good shape from leaves in my yeard or on the internet.
Prepare a pattern on my computer, including finding the center of the leaf.
Preparing the wood and attaching the pattern to the wood.
Sawing the leaf shape on the wood with a scrollsaw.
Mounting to the lathe against a wood faceplate with tail stock pressure.
Shaping the bottom and creating a mounting tenon.
Reversing into a scroll chuck and shaping the top and interior.
Reversing again to clean up the foot
Sign the completed turning and finishing.
My wife likes this leaf plate. Therefore, it is a success.

Good turning.