by
Alan Stratton
on Friday, June 16th, 2017 |
Comments Off

on Woodturning Wizard Wands For Young Wizards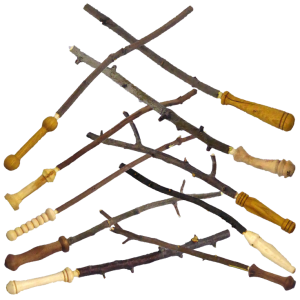 May also be viewed on YouTube, Vimeo, and FaceBook – Best right here where you are!
My granddaughter is having a birthday soon; she requested a wizarding party and wizard wands for her and her friends. I'm happy to oblige but was hesitant to do an eccentric of off axis wand such as I did some time ago in:
So, I decided to make nice handles but find crooked shafts or blades from trees and shrubs in my yard.
Good turning.