by
Alan Stratton
on Friday, September 15th, 2017 |
Comments Off

on Designing Two Stave Inside Out Christmas Ornament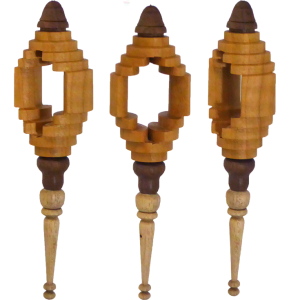 This post may also be viewed via YouTube, Vimeo, or FaceBook. Best right here at As Wood Turns.
Inside out Christmas ornaments present a challenge for me. They are tough to visualize due to the interaction of the inside and the outside turning. For this two stave inside out ornament, I started to plan the woodturning using Sketchup. Sketchup is a three dimensional modeling application. I use the free non pro version.
While I can draw a round object with curves, it would be difficult to edit. To avoid this difficulty, I approximated the shape by using 1/4″ steps, planning to smooth out the final ornament. Since this ornament uses two staves, I first drew one object to represent a 1x2x6 board making this board a Sketchup component. When an object is a component, it can be duplicated as many times as it needs to be but the main advantage is that any edits on a component are automatically replicated in all instances of the component.
Here's a summary of the process:
Draw my initial board, color it, and make it a component. My board is drawn vertically.
Duplicate and rotate the board to represent the two staves positioned as if they were already glued together.
Draw a guideline up the middle of the outside of one board.
Hide or hide the layer for other board.
Edit the board component
Draw a horizontal line at one key point in the turning. Extend this around the board.
Hide (not delete) the surface above or below the line.
Draw a semicircle on the horizontal internal surface.
Extrude the semicircle to the distance for this surface.
Erase lines and surfaces that would be removed in an actual lathe turning.
Repeat for each turned area.
Unhide all hidden surfaces, unhide the opposite board, and check the work. At this point, the shape represents the first or internal turning.
On the opposite side of a board, repeat by drawing lines, semicircles, and erasing lines and surfaces for the second turning.
Clean up and fix any mistakes.
Unhide the second board. Voila, your inside out turning.
For ornaments with more staves, draw boards with the appropriate angles. The process is the same except for using an edge instead of the middle of the board.
Remember the Christmas Ornament Challenge submission period is November. Plan your ornament now.
Useful Links to Previous Videos