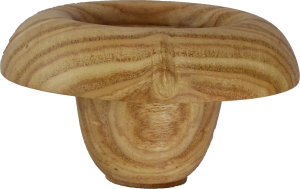 This video may also be viewed via YouTube, Vimeo, and FaceBook. But you're here already with the best seat in the house!
Part of our club wood raffle is encourage turning something from the wood. So, my natural inclination was to turn a small bowl from this wood that I think is ash.
However, with the small size, I wanted to dress it up a little. So, I reduced the diameter of the center hollow portion and reversed the curve on the lip. The tradeoff is a smaller bowl but I think this shows off the grain more. It is also more difficult to turn.
The finished bowl is 5 inches diameter and 3 inches high, finished with walnut oil. I like it.
Enjoy!