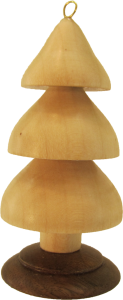 Also viewable on YouTube
I wanted to turn a simple project for the Christmas Ornament Woodturning Challenge. I decided to turn a Christmas tree that did not require hollowing or any complex setup.
This tree is in two parts: tree and its base. The base is optional but I think it anchors and helps define the tree.
The tree is maple from a friend's tree. I had turned this piece of wood into a small billet or round over a year ago to use for projects of this type.
The base is walnut scrap from another project. Both are finished with shellac friction polish.
Please enjoy this year's Christmas Ornament Woodturning Challenge.