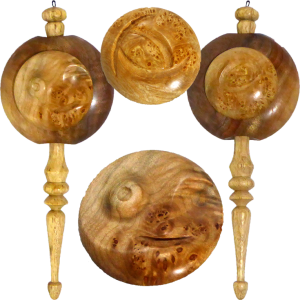 This video is also available on YouTube, Vimeo, and FaceBook. Best Place? Right Here!
The Christmas Ornament Challenge is accepting entries through November. Enter yours at www.AsWoodTurns.com/Challenges/.
For this project, I decided to do something different. Instead of a hollow globe with finials, I decided to substitute a disk for the globe and place decorative elements on the sides. The Infinite Axis Chuck is perfect for turning the decorative elements.
My ornament is about 7 inches tall and 3 inches across the disk and finished with brushing lacquer.
My process (as modified for next time):
Saw parallel cuts on the top and bottom of the wood for the disk.
Mark line through centers of top, front, and bottom.
Drill mortise hole in top and bottom. Depth is not important since the center will be covered.
Mount flat on the top surface of chuck jaws with live center holding the wood. Turn a shallow tenon so that the tenon will be removed when the disk is rounded.
Mount onto the tenon and drill a mortise to fit long neck chuck jaws. Depth is not critical.
Reverse mount and drill a mortise from the other side.
Finish the profile of the disc, sand and finish.
Turn and finish top and bottom finials.
Turn and finish two discs from contrasting wood with the Infinite Axis Chuck, incorporating a tenon to fit the mortise in the disc portion. Information on building the infinite axis chuck can be found in this video and web page.
Videos: