by
Alan Stratton
on Monday, December 24th, 2012 |
Comments Off

on Christmas Ornament: The Star of Bethlehem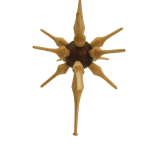 This Christmas Ornament is woodturned walnut and maple about 6″ high and 4.5″ in diameter. The walnut body and maple finials are finished with friction polish. The ornament has a handmade brass hanger.
The Star of Bethlehem represents the sign given for the birth of Jesus Christ, the true center of Christmas.
The challenge with this ornament is accurately drilling the tenon holes in the star's body, then replicating 12 side finials.
This ornament is part of the Christmas Ornament Woodturning Challenge 2012. Please view the playlist at http://www.youtube.com/playlist?list=PL4W9FE566kZhU-Mo7smbQgsUb-wpUJGom.