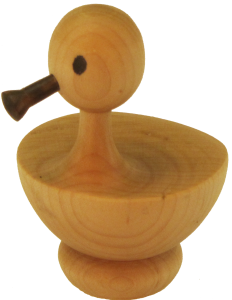 I am interested in multi-axis and off center turning. However, any change to the turning axis presents challenges and risks.
This project, from hard maple, follows an example in "Woodturning Methods" by Mike Darlow.
On the first axis, I turned the body, foot, and a mounting disk. Then I mounted a wood faceplate with a 2″ hole offset from the center by a little less than 2/3 of an inch. I drove screws into the mounting disk inside the radius of the duck's foot.
Then on the second axis, I turn the duck's head and neck.
The greatest challenge is the transition between the duck's neck and body. The biggest risk is while doing the head and neck — the body is flipping around the axis — a risk to hands and tool positioning.
My little ducky is yet unnamed. Your suggestions will be appreciated.