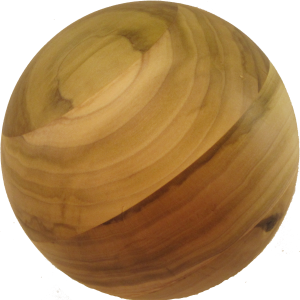 To dispel my ball turning phobia forever, I decided to do a large, hollow ball.
What's different?
Well, on a large ball, any irregular surface is more apparent.
Even more is that I'm having to turn blind. I cannot check wall thickness as I work the wood — I have to rely on measurement taken before gluing the two halves together. Then be sure not to cut through into the interior. In contrast, I could keep turning a solid ball smaller and smaller until I get a smooth result.
This ball is turned from dry poplar laminated from 2 inch blanks. The ball is about six inches in diameter and finished with beeswax and mineral oil.