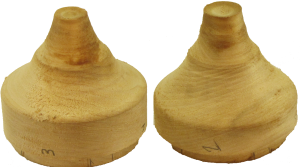 In my last video I turned a couple of wood balls to overcome a long running phobia – a concern that I could ever turn a perfect wood sphere. But I did it.
One requirement was to have a process that I described in that video. However, part of the process required a set of wood faceplates. In this video, I show making one of these simple faceplates that are threaded to fit the tailstock live center and have a tenon with which to mount it to the headstock spindle. Either faceplate can go on either end of the lathe. This makes them interchangeable.
My faceplates are made from poplar and left unfinished.
These faceplates made ball turning simple.
The last video in this series will take the process to an extreme.