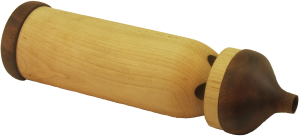 After the Cascade Woodturners club asked me to do a demo, I needed to make a practice run. After the last whistle, a viewer suggesting making the whistle in a way that it could be tuned instead of relying solely on the depth of holes drilled in the cylinder.
This whistle is tuned by inserting a dowel in a chamber in the opposite end of the whistle. Move the dowel in and out until the target pitch is achieved. Then glue it to lock it in place. OR, for the tone deaf, just glue in different lengths of dowel.
For this whistle, the air chambers are drilled completely thru the main body cylinder. Drilling these deep holes is quite a chore.
5/8″ down from the end, the inner air chambers are exposed and slightly flattened dowels inserted above the gap with the flat to the outside.
On the other end, I inserted dowels to tune the whistle. After cutting the dowels to an appropriate length, they are glued in place.
A mouth piece provides a convenient way to blow the whistle with a small inner chamber allowing air to each whistle chamber.
An end cap on the other end, hides the dowels and completes the project.
The whistle body is maple (6 inches); the end caps are walnut. Both are finished with a beeswax and mineral oil mix. The overall length is about 8 inches and 2 inches in diameter.