by
Alan Stratton
on Friday, September 27th, 2013 |
Comments Off

on Giant Sanding Disc Offers Options For Woodturning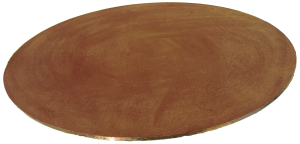 After seeing a large sanding disc at Dale Larson's shop here in the Portland area, I decided to get one for myself. They're not available commercially except as a very expensive stationary tool. So, I decided to make my own.
I ordered a piece of 1/4″ thick aluminum 20.25″ square allowing a little bit for truing the shape. This is the maximum that can fit on my Powermatic 3520 lathe. This aluminum came from http://www.discountsteel.com/ for about $62. The aluminum plate is bolted to an 8″ steel faceplate. Howard Borer, a member of Cascade Woodturners, made the faceplate for me; they are available from woodturning mail order companies. Make sure you fit your spindle.
I ordered my sandpaper discs from Amazon – Woodstock D1342 20-Inch Diameter PSA 60 Grit Aluminum Oxide Sanding Disc, 2-Pack by Woodstock.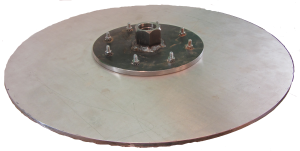 Fortunately, Howard also helped me saw the aluminum into a circle. After sawing, we mounted it to a lathe and trimmed the outer edge with a heavy woodturning scraper at very slow speed.
After returning home to my lathe, I checked for run out and added a small shim cut from a can of 7 Up soda between the faceplate and the aluminum.
Another plus over a commercial disc sander (other than the high cost) is that I can use the entire disc surface on my lathe – no part of the disc is covered by a table. Plus, I don't have precious shop floor space taken up by a monstrous 20″ stationary sander; I do have a 12″ stationary sander.
I use the sand disc to flatten rims and bottoms of green turned bowls and to flatten segment rings for segmented projects.