by
Alan Stratton
on Friday, October 25th, 2013 |
Comments Off

on An Eccentric Scary Halloween Spider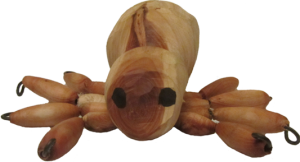 I had a big problem coming up with a Halloween project. My wife came to my rescue suggesting a spider.
This spider is an eccentric turning. Offsetting the tail end by nearly a half an inch flattened my pet spider's bottom side so he will not sit high off the ground.
I left him unsanded and unfinished wet juniper, appropriate for a rough, scary creature.