by
Alan Stratton
on Thursday, October 10th, 2013 |
Comments Off

on Woodturning A "Double Bowl" Bowl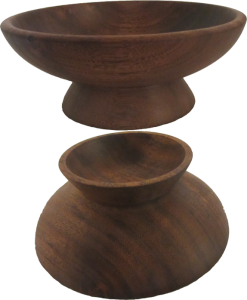 Sometimes you have to break rules to discover new territory – Other times breaking rules to know the consequences and to appreciate rules.
It's the same with woodturning. There's a lot of opinions(rules) to size the base of a bowl. But why not a double bowl – one where the base is also a bowl?
In this video, I'll turn a small bowl that can be inverted to be a smaller bowl on a large base. When necessary, it is a large bowl with a tall base.
Let's have some fun.