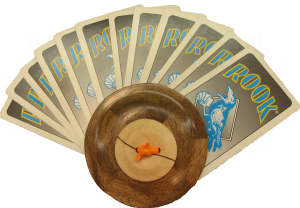 When my grandchildren come to visit, we often play games involving cards. But their hands are not big enough to hold their "Hands". In the past, I have cut slots in flat pieces of wood to hold cards. But still, they would like to hold the cards in their own hands.
After seeing a plastic card holder in a store, I decided to make my own card holder from wood and turn it on my lathe.
The card holder has 6 pieces:
2 – large walnut discs about 4 inches in diameter with a 1″ hole. Each is tapered on the inner surface to allow cards to be easily inserted. I profiled the outer surface with an ogee.
2 – small maple discs about 1.5 inches in diameter with 2 1/8″ holes about 3/4″ apart.
1 – hollow walnut cylinder 1″ in diameter with an inner 3/4″ hole. This cylinder does not show – its job is to keep the large discs aligned.
1 – elastic hair band. The hair band is threaded thru one maple disc and pass thru the inner cylinder, then thru the opposite maple disc. Then the hair band is tied with appropriate tension. I applied a little CA glue to the hair band in the area that I wanted to trim the band to keep it from fraying.
This is a simple project with a lot of benefits.