by
Alan Stratton
on Thursday, February 12th, 2015 |
Comments Off

on Woodturn Natural Edge Fig Mushroom – Not For Soup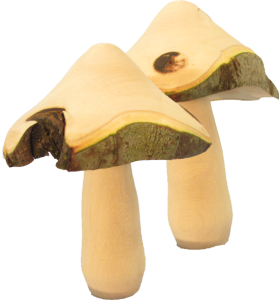 May also be viewed on YouTube.
My wife's sister asked me to turn a mushroom for her. Right now I have cuttings from a fig tree in my front yard.
Why not a natural edge mushroom from this fig. Figs and mushrooms both have nice flavors for cooking, why not see how they go together for a gourmet chef?
The end result is about 3 inches in diameter and 4 inches tall. The bark and limb make a nice irregular natural edge. This mushroom is finished with walnut oil – another flavorful cooking item.

Since this wood is wet, it will dry, shrink, distort and crack for more character and personality.