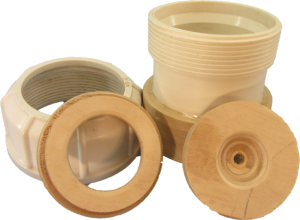 May also be viewed on YouTube.
My friend, Jerry Klug wrote an article for Cascade Woodturners on turned eggs and chucks for making eggs. This video will focus on my adaptation of these chucks for my use.
One early chuck was from Dick Sing using PVC slip fitting. It works on a compression principle with the force supplied by a band clamp. In my opinion, its disadvantage is the risk of personal injury from the band clamp.
The second chuck was from Vern Bunn using a PVC threaded coupling (2 in PVC S x S Compression Coupling). It works differently in that the compression comes from the top ring of the PVC fitting which is threaded. It has a slightly greater range of egg sizes. In my opinion it would serve somewhat better than Dick Sing's.
However, even this chuck can be improved. Vern's implementation holds the PVC with his four jaw chuck. I'd rather not tie up my four jaw chuck. Plus, ideally, jaws should be positioned in the same position with each use. Both of these conditions can be avoided by mounting the PVC on a home-made (DIY) threaded faceplate. My faceplate is poplar but could be made of any appropriate material.
Steps:
Make a threaded faceplate.
Smooth the outer surface of the PVC then part it in about half.
Cut a groove in the faceplate to fit the PVC fitting. Then glue the PVC into the groove.
Make at least one wood disc for the bottom of the chuck. It must fit into the PVC and be dished out to fit the bottom of the egg. Additional spacers may need to be added as necessary.
Make at least one wood ring for the top of the chuck. This ring fits over the small end of the egg but inside the PVC female threaded ring.
Then use this chuck to finish the small end of your eggs as smoothly ands well finished as the rest of the egg.
Link to Fitting: http://www.homedepot.com/p/Mueller-Global-2-in-PVC-S-x-S-Compression-Coupling-160-108HC/202283769
Link to Jerry Klug's article: http://www.cascadewoodturners.com/newsletters/TurningTimes0215.pdf