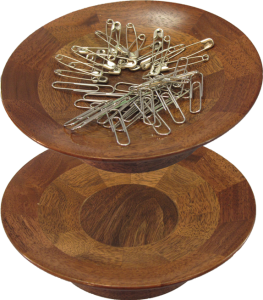 May also be viewed on YouTube.
At my wife's request, I turned this magnetic pin bowl. It looks simple but figuring out how to embed a magnet and still have enough magnetic force was a brain teaser.
The bowl is walnut finished with friction polish. It uses a segmented approach with four rings of twelve segments each plus two pieces of three ply home made walnut plywood. This amounts to 54 pieces of wood.
The magnet is a generic HF 25 pound 2 inch magnet.
Good turning.