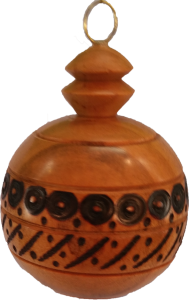 This video may also be viewed on YouTube. But much better here.
This ornament is my first for this year's Christmas Ornament Woodturning Challenge. It is cherry with the bulb about 2 inches in diameter plus about 1 inch integral finial. I hollowed the bulb by cutting it in half, hollowing the two halves, and gluing it back together. It is finished with shellac friction polish.
For decoration, I turned several v-grooves and woodburned (pyrography) some random designs. I then sanded the burned areas before finishing and buffing the ornament.
Enter your ornament video at http://www.AsWoodTurns.com/Challenges. There's still lots of time before the deadline of November 30, 2015.
Good turning.