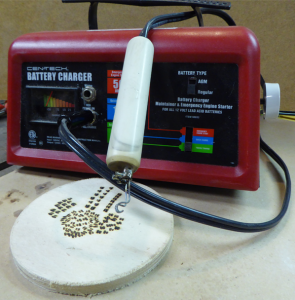 May also be viewed on YouTube – But Better Here!
There's still time to enter this year's Christmas Ornament Woodturning Challenge. See this year's challenge playlist here for all ornament video submissions.
We appreciate all skill levels and all types of Christmas ornaments.
---
As promised, this is my build video for my DIY or home made pen for pyrography or woodburning on my woodturning projects.
This pyrography pen uses;
6″ ¾" PVC pipe
6-8 feet 14 gauge insulated stranded wire – Ace Hardware
¼" Male Power Jack
4 PA10HDS-R connectors from connector strip – #215029 TERMINAL BLOCK,12-POS,10MM, $2.3900 – Jameco Electronics
8" – 1/8" brass rod
JB Weld Epoxy
1 cotton ball
1–strip thick veneer, popsicle stick, or solid wood a little longer than the brass rod plus connector length
electrical tape.
The most difficult item to source are the connectors. I could not find them in local stores such as Radio Shack or Fry's. I ordered them online from Jameco electronics. Others from my club found them at a commercial electronics supply firm.
The connectors are sold in a block of connectors. I tried to unscrew the screws to extract the metal tube but could not remove the screw from the plastic housing. Then I succeeded when I tightened the screw then clipped the plastic and pried back the plastic. Then I could easily remove the screw and slide out the metal connector.
I soldered the wire to my 1/4″ power jack which matches the jack I installed in the vaporizer.
I cut two pieces of 1/8″ brass rod about 4 inches long and tightened a connector to each end. Then I glued the flats on the metal connectors on one brass rod to a piece of veneer. After the glue dried, turned it over and glued the other rod with connectors to the other side. Then I wrapped both ends with electrical tape.
With my sub assembly complete, I connected the wire and inserted the rod assembly into the PVC pipe. After stuffing cotton into each end, I filled each end with JB Weld epoxy.
This completed the pen.
Home made tips are made from nichrome wire 18 to 22 gauge. Molly Winton recommends 20 or 22 gauge.
My pen can use both Razortip commercial tips and home made tips.
This is a great project, very economical, to create a variety of effects applied to woodturning projects. My "Vaporizer" packs enough power punch to drive even larger pens.
Good turning.