May also be viewed on YouTube – but better here!
There's still time to enter this year's Christmas Ornament Woodturning Challenge. Follow this link for details and and this separate link for this year's challenge playlist for all ornament video submissions.
We appreciate all skill levels and all types of Christmas ornaments.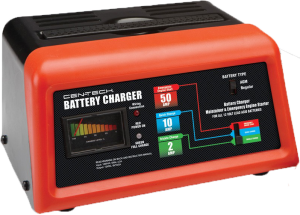 As promised, this is my build video for my DIY or home made power supply to use for pyrography or woodburning on my woodturning projects. Graeme Priddle is the source for this design that he called a "Vaporizer".
This vaporizer uses a battery charger modified to remove much of the internal circuitry with the addition of a household dimmer switch.
1- Harbor Freight – 10/2/50 Amp 12V Manual Charger With Engine Start ~$39.99 – watch for a sale and/or coupon.
1- Ace Hardware – Lutron Push On/Off Dimmer (D-600PH-3K) ~$9.49
2- ¼" Female Panel Mount Jacks
In Graeme Priddle's notes, he often uses a NAPA battery charger. I don't believe this matters as long as you can figure out the internal wiring that needs to be removed. He also hard wires his pyrography pen to avoid any power loss from the connection. However, I chose to mount two 1/4″ sockets in the front panel to enable two pens to be plugged in at once. However, only one can be used at a time. I used a switch from the battery charger to control which switch is powered.
The most difficult part was routing power to the switch and to the power sockets. Had I used a single in-line connection, the work would have been much simpler.
At the input to the battery charger, I removed a circuit board and wired the dimmer switch into the black or power input wire. I had to use additional wire to make the connections since there was just not enough extra wire.
On the output side, I traced back the wires leading out to the battery clamps. I was able to remove a couple more pc boards that otherwise control current.
After removing these components, I soldered a wire leading from the front meter to the center connector of the switch that originally controlled amperage. Then I soldered wires from the two poles of the switch to the power socket terminals.
I cut these wires from the output cable running to the battery clamps. This wire is heavier and should handle the power adequately.
Another couple of wires from the other connectors on the power sockets and connected to a wire that originaly lead to a component.
For operation, power is controlled by the push on/push off operation of the dimmer switch then by rotating the dimmer clockwise to increase power. It's best to start with the dimmer rotated completely to the left.
The front switch controls which power socket will receive power. Two pens can be plugged in but only one will receive power.
This power supply has ample power to drive a large pen tip and to quickly reheat a tip after a touch to burn wood.
Please remember to unplug when not in use. Rotate the dimmer counter-clockwise before powering up. Let tips cool before touching. Whoever uses and modifies a commercial unit to adapt its use has to take full responsibilities for maintenance, safety and proper operation.
That said, this is a great project, very economical, to create a variety of effects applied to woodturning projects.
In another video, I'll show how to make a pen to use with this power supply. Don't worry, the pen is easier than the power supply.
Good turning.