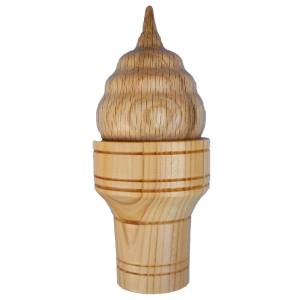 Video may also be viewed on YouTube – But best right here.
I'm still not at home in my new shop but that is not going to stop me from turning.
After enjoying ice cream with my granddaughters, I decided to attempt to turn an ice cream cone.
My ice cream is turned from cedar for the cone and oak for the ice cream. Both woods are products of urban forestry. The cedar came from a tree that was in my back yard. The oak came from a friend's neighbor after a storm damaged their tree.
The complete ice cream serving is about 5 inches tall and 2 inches diameter finished with Mylands Friction Polish.
The question now is along the ice cream theme. What else could I do to transform or enhance my ice cream? Hmmmm.
Good turning.