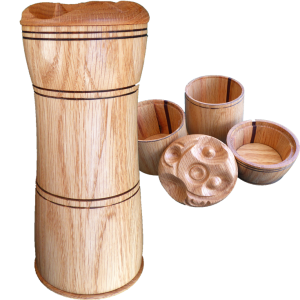 May also be viewed on YouTube and Vimeo but best right here.
I glued up this red oak into a stave lamination some time ago when I turned a travel mug. At the time, I thought I'd be making another but then changed my mind. Since then this lamination has been in my shop, was part of moving to Utah, and is in the way. It is much like food left over from a sumptuous meal that is still in the refrigerator.
But it's time to clean it out and enjoy it. Instead of another travel mug, I turned it into a set of stacking boxes finished with walnut oil. The set stands about nine inches tall and about 4 inches in diameter. Each box above the first is a lid to the box below it. Then I decorated another piece of wood to serve as the top lid. Each box is a slightly different diameter and a different height to accommodate different items, my wife may want to put in it.
To make this set of boxes, I had to fix a failed joint in the stair tread material. That joint was a factory joint. It's a good thing it did not make it into a stairway. Then cut the lamination into sections and keep track of each to preserve grain orientation. I turned oak plugs to serve as the bottom for each box and the lid for the box below it.
It was a lot of tenon work with all the trial and error of fitting a tenon to a mortise – many times over.
I had a breakthrough when I needed to remove a flange of wood between the tenon serving as a bottom and the tenon opposite it (on the other side of the same piece of wood). Since it was also the wood riding on the face of my chuck jaws, I did not see, at first, how to remove the wood without damaging my tools or a very complicated process. The breakthrough was to cut a very small groove in the tenon serving as the base to the box. The sides of this tenon would be hidden once the bottom is glued into the sides. This groove then was sufficient for the dovetail jaws to grab. The gap that resulted was enough to remove the excess wood.
The lid is decorated using the Infinite Axis Chuck. That is the topic of next week's video.
Good turning.