by
Alan Stratton
on Friday, October 28th, 2016 |
Comments Off

on Stylized Pumpkin Just In Time For Halloween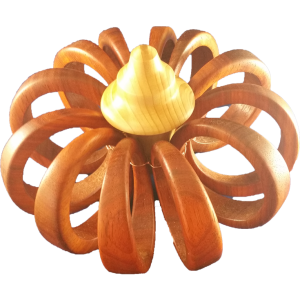 May also be viewed on YouTube, Vimeo, and Facebook. Best right here.
---
Don't forget – The Christmas Ornament Challenge is open now – View or Enter yours at this link.
---
I'm always on the lookout for a project idea that I can adapt to a turning project. While visiting my daughter in law, she had an adorable stylized pumpkin made from canning jar rings with cinnamon stick rolls as the stem. Immediately, the thought came "Can I do this as a woodturning". There were some immediate differences. Canning jar rings tend to nest together. For a wood project, I would have to taper the rings. And there would have to be a lot of rings.
In fact, this project is all about making the tapered rings. My initial plans for efficient tapering did not work and I was forced to sand the taper and then do extensive sanding of each ring.
This pumpkin consists of twelve padauk rings about three inches in diameter and a cedar stem. All wood was finished with shellac friction polish. The rings are tied together with 18 gauge copper wire.
Now I need to figure out a better way to make the tapered rings before I make another. Meanwhile this cute pumpkin is prompting yet more ideas.
Good turning.