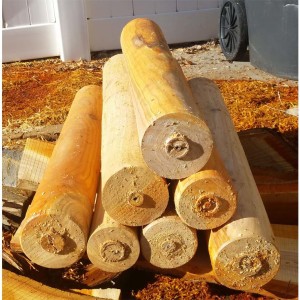 May also be viewed on YouTube, Vimeo, or Facebook. Best right here.
---
To view Christmas Ornament Challenge entries – click here.
---
Not every project results in a beautiful object. Some I do well in advance with a beautiful object in mind. This is the case in this video.
I was given some fresh cut or green cherry logs. I promptly ripped each in half through the pith. Some I cut into bowl blanks.
However, some I left long and turned into long cylinders for later projects. Each was waxed. I'll leave them to dry until needed. When I want to use one, I'll weigh it on about a 2 week interval. When it stops losing weight, it will be dry.
Future spindle projects in the making. Stay tuned.
Good turning.