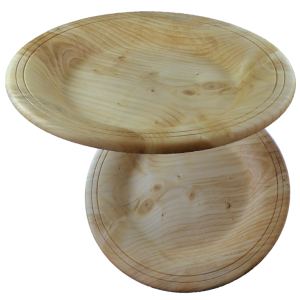 May also be viewed via YouTube, Vimeo, and Facebook. But best right here.
This project comes from a block of pine I received as a raffle prize at a woodturning club meeting. Initially, I was disappointed that it is pine, a softwood, that I don't like to turn.
It has been a while since I turned a platter. I could not see a deep bowl in the half log — only possibly a platter.
For a platter, I mounted the wood to a screw chuck after chain sawing a good slice. Then trued the face before rounding off the perimeter. Then cut a mortise to receive my larger jaws. Then completed the bottom side of the platter.
After reversing the platter, I turned the rim first while the wood was still stable. Then extended the hollow down to the bottom. Finally, I finished the remainder of the inside hollow.
This 12″ by 2″ platter is finished with walnut oil.
Good turning.