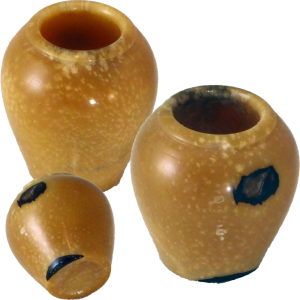 This video may also be viewed on YouTube, Vimeo, and Facebook. All the same – best right here.
When I see a good demonstration, I have to try it myself. That is the case here for a tagua nut. The demonstrator was Clive Christiansen. He has turned hundreds of tagua nuts.
Tagua nuts used to be used for buttons as a substitute for ivory. With the advent of plastics, they have been replaced.
My little vase is a little over one inch tall and a little under one inch in diameter. No finish – only a good buffing.
Enjoy.