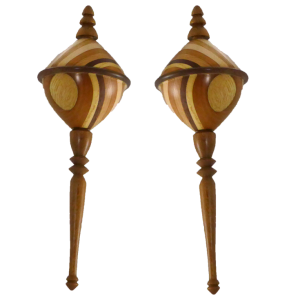 This video may also be viewed on YouTube, Vimeo, and Facebook. But you're here already where it is best!
While wrapping up this year's Christmas Ornament Challenge, I wanted to make one more Christmas ornament.
For this ornament, I used left over laminations from a rolling pin projects and oriented the layers on a diagonal. After rounding, I cut the ornament in half to make hollowing easy, then glued it back together with a walnut slice in between.
To finish the ornament, I had to turn bushings from HDPE for my pen mandrel. The finials are turned from a tropical pen blank. The Christmas ornament is finished with brushing lacquer and buffed. It is 3.5″ by 7.5″
Useful Link:
Easy DIY Tenon Cutters for Woodturning