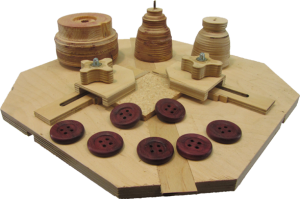 These Sketchup models were developed in Sketchup version 8.
Drill Press Jig
Button Column Faceplates
Jamb Chuck for Fronts & Backs
Button Rim Chuck.
These work together to precisely align the holes in your buttons. This alignment is key to easy size and hole placement consistency. Of course, the face pattern is up to you and your creativity.
We'll also add you to our email list and notify you of future videos and other relevant items. Don't worry, we don't give our list out to any one else. You can opt out at any time — but we'll miss you and you'll miss out on great woodturning tips and items.
Because of bad spammers, we have to comply with laws designed to protect you and all of use. This makes this procedure seem long and complicated. You'll receive an email to confirm your signup and then another to give you access to the download page. Please be patient.  All that we need is your email address.
I'm still testing this process. If this doesn't work, please email me & I'll do it manually.